"Let's observe the Sun with Hinode 2015" will be carried out from Aug.24 to Aug.29, 2015.
"Let's observe the Sun with Hinode" is a joint observation campaign carried out by Hinode and junior high/high (JH/H) school students every summer and winter vacation since 2010. This year, it is carried out from Aug. 24 (Mon) to Aug. 29 (Sat), titled as "Let's observe the Sun with Hinode 2015."
Scientific data sets obtained by Hinode are not only used for research purposes, but for educational purposes, as well. During these campaign periods, X-ray full-disk images and various kinds of optical and X-ray images of solar active regions can be obtained by Hinode around the JST midday (2:00 - 6:00 UT), so that JH and H school students could have opportunities for their own research activity, to observe the Sun, and to compare their results with those obtained by Hinode, by participating in the extracurricular astronomical clubs in JH and H schools. Last year, fourteen schools and/or facilities took part in this campaign and reported their observational results. Some of them had presentations in prefectural-level science contests in Japan. The following pictures show that Tsuno high school had a presentation in Miyazaki High School Cultural Festival last year.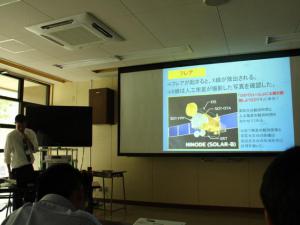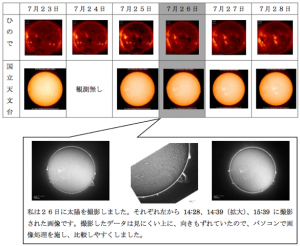 These joint observations draw attention of foreign solar researchers. We hope the students will have fruitful research opportunities by jointly observing the sun with Hinode at the time of solar maximum. In addition, museums and public observatories are encouraged to utilize the Hinode data for their exhibitions, and school teachers are also encouraged to do so in their classes.
"Let's observe the Sun with Hinode 2015" is supported by Subcommittee for IAU, Science Council of Japan.
Please look at the campaign details on the following web page.
http://hinode.nao.ac.jp/user/yaji/hinode/issho/index_e.html
Reference
HOP173 "EPO campaign observation mainly for high school students"
http://www.isas.jaxa.jp/home/solar/hinode_op/hop.php?hop=0173
Regarding the use of images and movies on the page concerned, please visit the page here. The credits of images and movies on this page are "NAOJ/JAXA" unless explicitly stated to the contrary. Regarding images and movies on this page the credits of which are "NAOJ/JAXA", "NAOJ/JAXA/MSU", or "NAOJ, JAXA, NASA/MSFC", terms of use for Copyrighted Works owned by NAOJ can be applied. In using the images and movies, the credits should be given.